Collections are listed by release dates
Please contact each project team for further updates
This article is for general information purposes only
Revolte
Date
pre-sale:  4 February 8pm JST
public sale: 5 February 9pm JST
Price
0.02 ETH (pre-sale)
0.03 ETH (public sale)
Items
1,000
Network
Ethereum
Useful Links
Twitter
Discord (NinjaDAO)
Website
Note:
A collection aiming to offer a new MusicxNFT entertainment
Vision: "Initiative to creators"
OkCatCNP
Date (TBA)
15 February
pre-sale (AL guaranteed) : 12 – 9pm (JST)
pre-sale (FCFS): 9pm (JST)
public sale:
Price
0.02 ETH
Items
TBA
Network
Ethereum
Useful Links (XANA)
Official Website
Discord
Twitter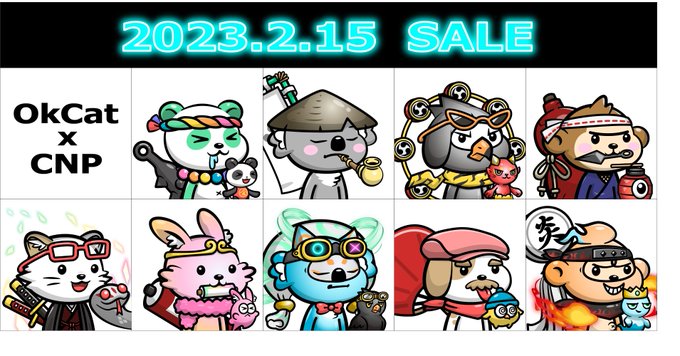 Xana: Penpenz
XANA x CryptoNinja collaboration project to mark their new relationship
XANA is the world's first fully-metaverse-focused public chain that provides infrastructure for various Web3 entertainment and services
XANA plans to assist in the IP development of the CryptoNinja family character businesses by utilizing its platform
RelatedArticle
XANA: Penpenz - Feat. CryptoNinja (aka Penpenz) is a collection of 10,000 profile picture NFTs (PFP) released in Februar[…]
---
The content is for informational purposes only. Investment/financial opinions expressed by Web3 Zen.com are not recommendations. As always, please do your own research prior to making any investment decisions.